To your service since 1989 in the Aube, Country of Armance, the Forest of Othe, Chaourçois, Tonnerrois, as well as the limits of the department of the Yonne, Jean-Philippe and Julie welcome you to the Agency Armance Immobilier which puts its skills in your service for your research of contemporary house-hunting, a detached house(flag), a property, an apartment, a ground, a farm, a small farmhouse, a farm building.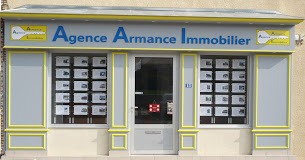 The Armance Immobilier agency, the specialist of the local real estate advises to you, guides you in your research and the choice of your future acquisition. We help you in the research and the fulfillment of your real estate project.

The Armance Immobilier agency, it is:
A dynamic team,
a local structure,
a councillor to buy, sell or rent a real property in main or secondary home,
a rigorous politics based on the welcome, the choice, the precision of the advice, the efficiency and the dynamism.
The Armance Immobilier agency, at the heart of a triangle Paris Troyes Auxerre, is situated in approximately 160 km from Paris Sud by the highway A5, served by the rail with his stations of Troyes, Saint Florentin, Tonnerre, Migennes.
In a woody, hilly region, it is an ideal place to get fresh ideas and take advantage of outdoor activities such as hikes, equestrian, in VTT, in quads, ballads in forest, the hunting or the fishing. Between green tourism and gastronomy, the region is close to burgundy wines, to wines of Champagne, the Cider, but also snails, mushrooms and the Round of cheeses with famous Chaource, Soumaintrain, Saint Florentine. Close friend of Forêt d'Orient lake, we can bathe, make of the jet-ski, play golf, or simply walk.
All the municipalities covered by the Agency Armance Immobilier are:
Canton d'Ervy-le-Châtel (10130) :

Auxon
Avreuil
Bernon
Chamoy
Chessy les prés
Coursan en Othe
Courtaoult
Davrey
Eaux Puiseaux
Les Croûtes
Lignières
Marolles sous Lignières
Montfey
Montigny les Monts
Racines
St Phal
Villeneuve au Chemin
Vosnon

Canton de Chaource (10210) :

Balnot la Grange
Chaserey
Chesley
Coussegrey
Cussangy
Etourvy
Lagesse
La Loge Pomblin
Lantages
Les Granges
Les Loges Margueron
Maisons les Chaource
Metz Robert
Pargues
Prusy
Praslin
Turgy
Vallières
Vanlay
Villiers le Bois
Villiers sous Praslin
Vougrey

Canton d'Aix-en-Othe (10160) :

Bérulle
Maraye en Othe
Nogent en Othe
Paisy Cosdon
Planty
Rigny le Ferron
St Benoist sur Vanne
St Mards en Othe
Villemoiron en Othe
Vulaines

Canton de Bouilly (10320) :

Assenay
Crésantignes
Fays la Chapelle
Javernant
Jeugny
Lirey
Longeville sur Mogne
Les Maupas
Machy
Roncenay
Sommeval
St Jean de Bonneval
Souligny
Villery

Canton de Neuvy-Sautour (89570) :

Beugnon
Sormery et ses hameaux et lieu-dits tels que La Charbonnière
La Rue Chèvre
La Guinand
La Tuilerie
La Guette
Soumaintrain
Turny

Canton de Saint-Florentin (89600) :

Avrolles
Bouilly
Chéu
Germigny
Rebourseaux
Vergigny

Canton de Flogny-la-Chapelle (89360) :

Bernouil
Butteaux
Carisey
Dyé
Jaulges
Percey
Villiers Vineux

Canton de Chailley (89770) :

Boeurs-en-Othe et ses hameaux et lieu-dits tels que Berthellerie
Les Boudins
Les Boulots
Le Champion
Coudre
Les Delavoix
La Grande Jarronnée
Jean Boudin
Les Fusées
Les Lainés
Les Molinots
Les Mossots
Les Nourrits